Index Copernicus Value (ICV) = 69.37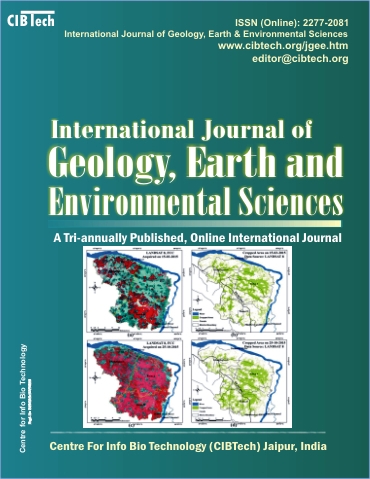 Current Ongoing Issue: Vol. 13 2023
Refereed/Peer-Reviewed
Indexed in: Index Copernicus; Chemical Abstracts Service (CAS-A Division of American Chemical Society)
Submit Articles for 2022 Issue
Join Our Editorial/Reviewer Board
Published by
Centre for Info Bio Technology
Plot No. 17, Narayan Sagar Vistaar, Gopalpura Bypass, Near Narayan Vihar C Block, Post Office: Mansarowar, Jaipur, Rajasthan, India 302020
E-Mail: editor@cibtech.org, cibtech@yahoo.com, cibtech.journal@gmail.com,
Old Address:
A 163 Dr. Rajendra Prasad Nagar, 200 Feet Road
Post Office Mansarowar, Jaipur
Rajasthan, India 302020
International Journal of Geology, Earth & Environmental Sciences
International Journal of Geology, Earth & Environmental Sciences (JGEE) is an open access online international journal that provides online publication of original research work, review and views in all areas of Geology, Earth and Environmental Sciences from all over the world. The Journal (JGEE) is being published by Centre for Info Bio Technology (CIBTech) (Regd. No. SH/311R/2-16AP/42/09) with an objective to promote quality and affordable publication of research work fulfilling the general criteria of significance and scientific excellence. All articles published in JGEE are rigorously peer-reviewed. The Journal was initially published tri-annually (three numbers per year) by the end of April, August and December and annually since 2021.
Aim and Scope of the Journal: The aim of the Journal is to provide a platform for the researchers and academicians throughout the world to speedily publish, share and discuss various new findings and developments in the areas of Geology, Earth and Environmental Sciences. The major aspects of research areas include, but are not exclusive to Atmospheric pollutants, Biogeochemistry, Bioremediation of contaminants, Climate change, Conservation in the natural world, Continental ecosystems, Crust-mantle interaction, Dynamics of the lithosphere, Earth history, Ecological and human risk assessment, Economic geology, Energy auditing, Energy conservation, Energy resources, Environmental biology, Environmental chemistry, Environmental ecology, Environmental engineering, Environmental impact assessment, Environmental microbiology, Environmental remedial action planning, Environmental sciences, Environmental standards and criteria, Environmental toxicology, Environments pollution control, Evolution of life (early life, biostratigraphy, biogeography and mass-extinction), Geochemistry, Geochronology, Geohazards, Geology, Geomorphology, Geophysics, Glacial geology, Glaciology, Green technology for sustainable development, Heavy metals and organic compounds in the environment, Improved energy management, Industrial ecology, Legal aspects related to environment, Magmatism, Marine ecosystem, Marine geology, Metamorphism, Mineral deposits and hydrocarbons, Mineralogy, Orogeny, Palaeoceanography, Palaeoclimatology, Palaeontology, Petrology, Seismology and earthquakes, Sewage treatment, Soil biodegradation, Soil science, Surface processes (weathering, erosion, transport and deposition of sediments), Tectonics, Volcanology.
Types of Papers
General article: Covering current trends in research in geology, earth and environmental sciences but may be interesting to general readers outside the field.
Addendum: It includes article giving additional information on earlier published research paper of the author
Research article: Covering research work of scientific excellence.
Review article: Focusing on current advancements in the given field.
Short communication: Containing important, interesting and noble findings.
Case report: It includes medical case reports related to toxicology etc.
Research account: Personalized review articles on the research work carried at the author(s)' laboratory, based on the published work of the author(s).
Historical note: Includes famous scientific personalities or institutions or events of the past.
Opinion: Views on scientific activity.
Book reviews: On reference books published in specialized aspects of Geology, Earth and Environmental Sciences.